The San Carlos real estate market (like all markets right now,) continues to be in a state of flux. As we continue to adjust to changes in the national economy and interest rates, we'll continue to see market statistics that we haven't encountered in quite some time. My job is to put this into perspective and help buyers and sellers to understand why now is an opportunity for everyone.

During October, San Carlos had 27 new listings, down from 37 last month. Sales held steady from last month at 21 in total. It's interesting to compare this to the same time period last year, when we saw 39 listings and 35 sales. Overall numbers are down in both these categories, but months of inventory has nearly quadrupled since this time last year (we'll talk more about MOI in a moment). The reason why we have more average inventory (that being months of inventory,) is due to the fact that days on market is up to 32, versus 14 this time last year. However, as recently as May, 2022, days on market was in the single digits. So why is this happening?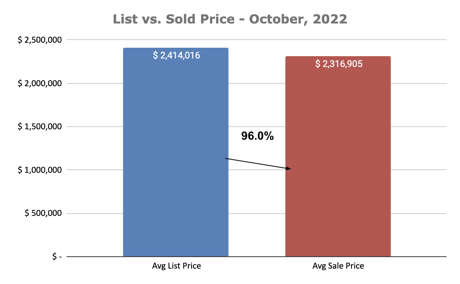 As I've discussed before, the market began to shift in the May/June timeframe this year, as the Fed began increasing interest rates. Their hyper-aggressive approach has had a significant impact on the housing market, causing buyers to move much more slowly in their purchase making decisions. As they slow their roll, days on market creeps up, and months of inventory increases, even though the total number of new listings has decreased since last year. So does this mean we're in a buyers' market?

This is where months of inventory comes in. Months of inventory (MOI) is the relationship of sales pace to the number of properties currently on the market if no additional homes were added to the supply. It is calculated by determining the number of homes sold per month and dividing by the total number of properties for sale on the last day of the month. MOI is one of the key criteria for determining if we're in a buyers' or sellers' market. Less than 5 months of inventory, we're in a sellers' market, more than 6 months and we're in a buyers' market. While we've nearly quadrupled since last year, we're still only at 1.5 months of inventory in the San Carlos market.

While this would imply it's solidly a sellers' market, the abrupt market shifts are leveling the playing field a bit and we're seeing long overdue corrections. Last year at this time, homes were selling at 109.6% compared to list price. For this time period (October, 2022,) homes in San Carlos sold for 96.0% of list price.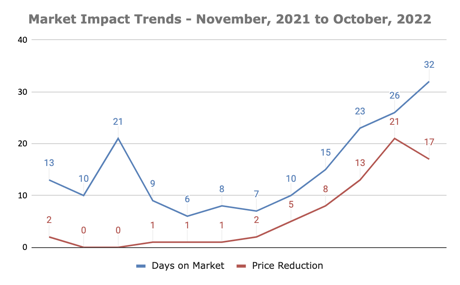 So, we're in a sellers' market for those sellers who are patient and practical with their pricing, and what prices they will accept. And we're in a buyers' market for those buyers who are savvy enough to see that there are opportunities that we haven't had in a dozen years to negotiate offers without excessive competition. Mortgages can be refinanced in a couple of years when rates go down, but as rates go down, more buyers will return to the market creating more competition. Now is the time!

There are still plenty of buyers for San Carlos and not enough inventory, continuing to make it a great time to sell in San Carlos. So if you're thinking of making a change, let's chat!
Have questions about the San Carlos real estate market? Give me a ring and let's discuss!
Note: All market data based on Single Family Residences in San Carlos for the time period of 10/1/22 to 10/31/22. Data above is pulled directly from MLS Listings.